Go directly to one of our accommodations.

Riis Feriepark -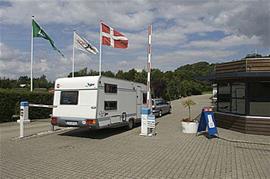 Additional/larger picture - click here.
Description of the accomodation
Riis Feriepark offer high standard facilities, among other things: Modern sanitary facilities with hotel comfort – Washing machines and tumble dryers – Camping kitchens with oven – Separate baby washroom with bath – Car wash area – Handicap room – Sitting room with TV – Covered shared barbecue – Mini market with daily goods, fresh bread and milk every day – Family bathing facilities – 2 persons Jacuzzi – Heated outdoor pool
The water park
is open from Pentecost to early September.
Activities:

Riis Feriepark offer among other things the following activities: Crazy golf – Jumping cushion – Trampolines – Moon Car track – Aerial ropeway – Playhouse – Playgrounds – Table tennis – Playing fields.
Distances:
Village, 4 km. – Golf, 4 km. – Shopping, on the camp site – Restaurant, 4 km. – Beach, 25 km. – Driving time to LEGOLAND and LALANDIA 20 min. – Driving time to LØVEPARKEN 10 min.
Wireless Internet against payment.
Facilities of the accomodation
Misc.
Built in

1978-2001

Parking lot

Yes

Arrival

15:00

Departure

11:00
Distance
LEGOLAND

19 km

Town

4 km

Golf course

6 km

Shopping

0 km

Airport

18 km

Angling

4 km

Train station

4 km

Bus stop

1500 m

Restaurant

4 km

Sea/inlet

25 km

Distance to LEGOLAND (min.)

20
Furnishing
Laundry

Yes

TV lounge

Yes
Wellness
Indoor waterpark

Yes

Swimming pool - outdoor

Yes

Whirl pool

Yes
Activities
Playing field

Yes

Table tennis

Yes

Bicycle hire

Yes

Mini golf

Yes

Trampoline

Yes
For children
Pool for children

Yes

Hopping cushion

Yes

Playground

Yes

Mooncars

Yes

Trampoline

Yes
How children friendly was the place you stayed in?

4,6

How satisfied were you with the standard of the room/apartment/cottage?

3,8

In general terms, how satisfied were you with the stay?

4,3

Was the staff friendly and helpful?

4,4

How satisfied were you with the stay in relation to the price?

4,3