Go directly to one of our accommodations.

Danhostel Givskud Zoo Vandrerhjem -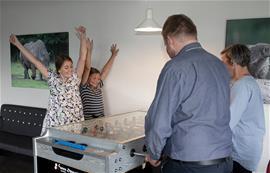 Additional/larger picture - click here.
Description of the accomodation
DANHOSTEL Givskud is located in the heart of Denmark surrounded by beautiful scenery. The hostel is ideal for excursions to Legoland, the runic stone at the church of Jelling and the Gudenå river. Our neighbour is the Lion Park and Vejle and Billund Airport can be reached in 20 minutes by car. The hostel is perfect for any kind of stay.
Facilities of the accomodation
Misc.
Built in

1993

Suitable for disabled

Yes

Parking lot

Yes

Arrival

16:00

Departure

10:00
Distance
LEGOLAND

20 km

Town

100 m

Golf course

10 km

Shopping

300 m

Airport

23 km

Angling

500 m

Train station

10 km

Bus stop

300 m

Sea/inlet

20 km

Distance to LEGOLAND (min.)

21

Badeland

15 km
Furnishing
TV lounge

Yes
For children
Activity room/Play room

Yes
How children friendly was the place you stayed in?

4,5

How satisfied were you with the standard of the room/apartment/cottage?

4

In general terms, how satisfied were you with the stay?

4,4

Was the staff friendly and helpful?

4,6

How satisfied were you with the stay in relation to the price?

4,1