Go directly to one of our accommodations.

Billund Kro - Billund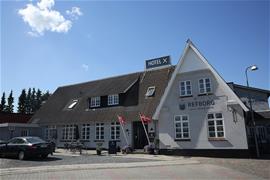 Additional/larger picture - click here.
Description of the accomodation
Billund Inn is located in the centre of Billund city.
The Inn is not only centrally located to the LEGOLAND-Park, Givskud Lionpark or Billund Airport, but is also ideal when you want overnight stay and a golf course - this is organised by our staff who always delivers a good personal service.
Billund Inn is open all year, The Inn is very easy to find, and has own parking-lot.

Notice: children u/3 years have to sleep in the bed of their parents
Facilities of the accomodation
Misc.
Suitable for allergy sufferer

Yes

Parking lot

Yes

Reception

Yes

Arrival

14:00

Departure

11:00
Distance
LEGOLAND

1 km

Town

0 km

Golf course

5 km

Shopping

0 km

Airport

3 km

Angling

3 km

Train station

30 km

Bus stop

500 m

Sea/inlet

30 km

Distance to LEGOLAND (min.)

5
Furnishing
TV lounge

Yes

Restaurant

Yes

Roomservice

Yes
For children
Trampoline

Yes
How children friendly was the place you stayed in?

3

How satisfied were you with the standard of the room/apartment/cottage?

3

In general terms, how satisfied were you with the stay?

3,5

Was the staff friendly and helpful?

3,9

How satisfied were you with the stay in relation to the price?

3,2